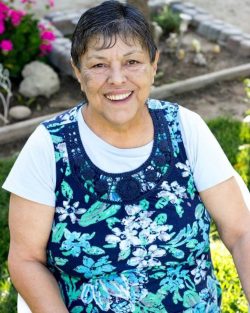 Theresa "Terry" Gonzales
September 1953 – January 2020
Theresa "Terry" Gonzales, 66 of Turlock, CA, passed away on January 2, 2020 in the comfort of her own home.
Terry was born in Hollister, CA to William and Geraldine Castro on September 30, 1953. She went to school at Santa Ana School and San Benito High School. Terry married the love of her life, Paul Jesse Gonzales, on November 6, 1971. On October 28, 1972 and December 4, 1974, she welcomed her son and daughter, who were the most important part of her life.
Terry was a devoted wife, mother, grandmother, daughter, sister, aunt, cousin and Godmother. She enjoyed the outdoors and especially loved camping and fishing with her family. She was a wonderful Nana to her grandchildren and was able to take care of them on a daily basis, up until the time of her passing.
Terry is survived by her mother Geraldine Castro; husband Paul Gonzales, Sr.; her children Paul Gonzales, Jr. (Sherry) and Christine Evans; grandchildren Brenda Cook, Jonathan Frazier, Elizabeth Gonzales, Joseph Gonzales, Robyn Evans, Alyssa Evans and Jayden Evans; great grandchildren Korrie and Jaxyn Cook; sister Lorraine Castro (Debra) and several nieces and nephews. She is preceded in death by her father William Castro and her brother William Castro.
A Rosary/Celebration of Life is scheduled for Jan. 19, 2020 at 2:00pm at Mt. View Grange Hall, 9737 Crows Landing Rd., Crows Landing, CA 95313.