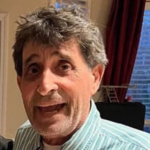 Arthur Conde Jr.
December 29, 1948 – June 10, 2022
Arthur Conde Jr., age 73, passed away on Friday, June 10, 2022 in Palo Alto, California. Arthur was born on December 29, 1948 in Oakland, California to Arthur and Amelia Conde. He grew in Walnut Creek before becoming a resident of Stanislaus County and resided in Ceres, Turlock, Hilmar, and Denair over the years. On October 3, 1977 he married the love of his life, Cora Conde, in Carson City, Nevada. Arthur worked as an almond farmer. He loved making others laugh and was the life of the party. He owned Conde's Bargain Room. Arthur loved buying things at a low cost, flipping them, and selling them for a profit.
Arthur was preceded in death by his parents, Arthur and Amelia Conde. Arthur is survived by his loving wife of 45 years, Cora Conde; his children, Paul (Grace) Conde, Margie (Tim) Humphres; his sister, Claudine (Rod) Azevedo; eight grandchildren, five great-grandchildren, and many more extended family members.
A recitation of the rosary is being held at 10:00 a.m. on Saturday, June 18, 2022 at Turlock Funeral Home, 425 N. Soderquist Rd., Turlock, in the Main Chapel. A graveside service is being held following the rosary at the Chapel of Flowers mausoleum, 575 N. Soderquist Rd., Turlock.
A reception is being held after the graveside service at The Grand Oak Banquet Hall, 1450 N. Soderquist Rd., Turlock.