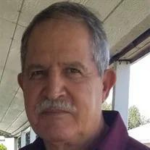 Sotero Martines Ruesga
April 23, 1944 – June 24, 2022
Sotero Ruezga, age 78, passed away on June 24, 2022 in Hughson, California. Sotero was born on April 23, 1944 in Villa Obregon, Jalisco, Mexico. He was a resident of Turlock. Sotero was a member of Sacred Heart Catholic Church in Turlock.
Sotero was preceded in death by his mother, father, brothers, and sisters.
Sotero is survived by his spouse, four children, grandchildren, great-grandchildren, and a multitude of loving family members and friends.
"To all my wonderful family – STOP, LISTEN, and FEEL. I will be in all your hearts, memories, thoughts, and dreams. This is not a goodbye, but a promise to be with you always. I LOVE YOU ALL."
A viewing is being held on Thursday, June 30, 2022 from 4:00 p.m. to 6:00 p.m. at Turlock Funeral Home, in the Main Chapel. Following the viewing, a rosary is being held at 6:00 p.m.
A funeral Mass is being held on Friday, July 1, 2022 at 10:30 a.m. at Sacred Heart Catholic Church in Turlock. Following the Mass, Sotero will be laid to rest at Turlock Memorial Park.