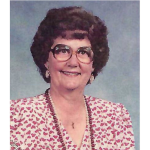 Harriet Hoffstedt Martinson
Feb. 1930 – July 2022
Harriet Martinson passed away peacefully at the Turlock Living Care Center on July 14, 2022. She was born to Harry and Emma Rasmussen on February 1, 1930. Her sister Ruth was born in 1931. Their father passed away in 1932. Her mother remarried in 1936 and had five more children to complete the family. After graduating from Little Falls High School, Harriet was employed by the Randall Minnesota Land O'Lakes Creamery where she met Richard (Dick) Martinson. They married in 1953. In 1959 their son Bradley was born. In 1962 the family relocated to Minneapolis, MN. Harriet worked as a church secretary. The church had a day care for handicapped children. She always had a heart for volunteering and would spend her lunch break helping feed the children. Her afternoons were spent visiting shut-ins.
Another move took them to Redwood City in 1977. Harriet worked for State Farm Insurance and then the Sequoia School District. Her dream job was working with her husband guiding a church senior citizen group. She introduced the California group to the Scandinavian tradition of Lucia Breakfast. It became so popular that two sittings were needed.
Another move took them to Turlock in 1988. Being unable to find employment in data entry, Harriet decided to be a volunteer at Emanual Hospital. She was a mail courier until 2016 when she stopped for health reasons. She also volunteered as an offering counter at church.
Harriet's hobbies were reading, gardening, and preparing food in the church kitchen. She loved to visit shut-ins and drive them to the doctor.
She was preceded in death by her father Harry Hoffstedt, mother Emma Hegg, stepfather Roy Hegg, sister Ruth Borud, sister Jean Carey and brother Daniel Hegg.
She is survived by her husband Dick Martinson, son Bradley Martinson and wife Janice, sister Nancy Vander Linden, brother David Hegg and wife Darlene, and brother Darrell Hegg and wife Renee, and nieces and nephews.
Nothing was more important to her than serving God and loving her family.
Memorial contributions may be made to Covenant Living Turlock's Benevolent Fund.