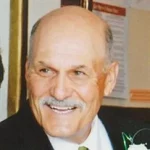 Anthony D. Barcellos
January 17, 1950 – July 8, 2022
Anthony "Dave" David Barecellos, age 72 and a resident of Hilmar, passed away on July 8, 2022 at home surrounded by family. Dave was a longtime parishioner of Holy Rosary Catholic Church in Hilmar.
Dave was born on January 17, 1950 to Avelino and Serafina Barcellos in Turlock, California. After Dave graduated from Hilmar High School in 1969, he went on to study at Modesto Junior College.
Dave was a hard worker and had many jobs throughout his life. He worked in the propane industry for 40+ years. He had his own business "Daves Tank Piers" and worked up until his passing.
In 1975, Dave met Theresa at the Circle K store in Hilmar on Lander Avenue which was right next door to his home. They married in 1976 and went on to have two children, Kevin and Sarah.
Dave worked his whole life and spent his free time helping at Holy Rosary Catholic Church doing Baptism classes, leading Bible study, and many other activities within the church. Dave enjoyed spending time with his children, grandchildren, playing sports, attending Giants and 49ers games. He could be found at every Hilmar High Football game on Friday nights. He was often seen riding his bike around town and conversing with the locals. Most of all, Dave enjoyed spending time with his loving wife, Theresa, of 45 years.
Dave was preceded in death by his parents, Avelino and Serafina Barcellos; his father-in-law, Tony Sanchez; and his brother-in-law, Bill Sousa.
Dave is survived by his loving wife, Theresa Barcellos of Hilmar; his children, Kevin (Tai) Barcellos of Stockton, and Sarah (Eddie) Rhoads of Hilmar; his grandchildren, Abigail, Riley, and Finnick Rhoads of Hilmar, Kaydance and Grayson Barcellos of Stockton; and his siblings, Ave (Kim) Barcellos of Lake Tahoe, Judy Sousa of Hilmar; and his loving dog, Ruby.
A viewing is being held at 9:00 a.m. on Monday, July 25, 2022 at Holy Rosary Catholic Church, 8471 Cypress St., Hilmar, CA 95325. Following the viewing, a recitation of the rosary is being held at 10:00 a.m. Following the rosary, a funeral Mass will be held at 10:30 a.m. After the funeral Mass, Dave will be laid to rest at Turlock Memorial Park, 575 N. Soderquist Rd., Turlock, CA 95380.
The family of Dave Barcellos would like to invite guests to a reception at Holy Rosary Catholic Church Hall following interment.