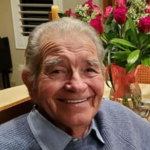 William L. Hill
October 10, 1936 – July 10, 2022
William L Hill (Bill) slipped the bonds of earth to be with Our Heavenly Father at the age of 85 July 10, 2022 at Sutter Hospital in Roseville, CA with family and loved ones by his side.
His life began in humble surroundings in Choctaw Indian Territory, Leflore, Oklahoma October 10, 1936. His Grandfather on his mother's side was full blooded Indian and he was proud of his one quarter Indian heritage. At age 6 the family moved to Fort Smith, Arkansas. At age 11 his mother Mary Elizabeth and younger brother Bobbie came by train to join his father Willis Leon, who had come to Turlock, California to find work. That must have been a fun train trip for his mother with two rambunctious boys in tow.
Bill graduated from Turlock High School in 1953, where he excelled in baseball, football, shot put, and math; English not so much. He married Shirlee Soderstrom, also a graduate of Turlock High, in July 1953.
He joined the Air Force in 1953; he said 4 years in the Air Force looked way better than being drafted into the Army for 2. He was stationed state side in Mississippi and Los Alamos, New Mexico. He served 4 years active duty and 5 years reserve, and rose to the rank of Master Sergeant. His last post was Winslow, Arizona where he attended Arizona University in Flagstaff majoring in Electrical Engineering.
The family, which now included 3 children Scott, Sherry and Steven, came to live in the San Jose area. Bill continued his love of baseball by playing with local teams, and by organizing and supporting the booster club for Prospect High Team Sports.
His professional life revolved around the heydays of Silicon Valley working for different companies; such as Fairchild and Signetics but interspersed he had his own businesses Miracle Hill and Laser Technology being two of them. Bill lived his last 28 years in Monterey County and then moved to Sun City Lincoln Hills in 2017 where he resided with his partner Nancy Richards and his beloved Corgi's Maggie and Murphy.
He was driven to succeed at whatever he tackled. Like a dog with a bone; just determined there had to be a way to solve a problem. A genius mind that developed the process to cut and produce stents on a laser; millions of lives have been saved by those stents, including his own.
He is survived by his estranged wife Shirlee, his 3 children, 7 grand children and 16 great grand children. He will be missed, loved and remembered by all those whose lives he touched.