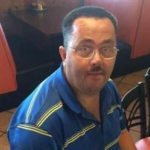 Bradley Joseph Campbell
June 2, 1974 – July 21, 2022
Bradley Joseph "BJ" Campbell passed away on July 21, 2022 in Turlock, CA at the age of 48. BJ was born on June 2, 1974 in Modesto, CA to Raymond and Patricia Campbell. He grew up in the Turlock and Hilmar areas and remained a resident in the area until his passing. BJ attended Elim Elementary, Hilmar Middle School, and graduated from Hilmar High School. After high school, he attended Modesto Junior College. During his years of working in retail, he worked at Kline's Valley Nursery, The Greenery, and Target. BJ loved fishing, playing video games, eating, and wandering around Turlock on his bike. He enjoyed reading and had a special interest in comic books.
BJ was preceded in death by his parents, Raymond and Patricia Campbell.
BJ is survived by his brothers, Scott (Julie) Campbell and Brian (Dana) Campbell; his nephew, Bryce Campbell; and his nieces, Alyssa Gonzalez, Mariah Gonzalez, Mackenzie Campbell, Danica Campbell, and Cadence Campbell.
A funeral service is being held at 10:00 a.m. on Monday, August 1, 2022 at Turlock Funeral Home. Following the service, Bradley will be laid to rest at North Hilmar Cemetery.