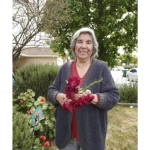 Maria L. Guedea
October 1944 – July 2022
Maria Guedea, age 77 of Delhi, passed away on July 17, 2022. she was born in Mexico and lived in Hayward, Union City, and Ceres before settling in Delhi in 1994. She married Glafiro Guedea in 1959 until his passing in 1998.
Maria was at her happiest when everyone came together under one roof to celebrate family, catching up, telling stories, laughing and eating well.
A walk with Maria through her garden was an education about all the plants and their uses. Throughout our youth, every child and grandchild was blessed with her warm embrace while sitting upon her ever popular lap, often two at a time.
As the kids grew up, she continued to be our place to go for comfort, sustenance, and provide safe ground.
Maria was selfless in the kitchen where no one entered without being treated to her scrumptious and nonstop cooking.
Maria was forever faithfully devoted to her lifelong love Glafiro.
Maria is survived by her daughter Lidia Ruiz; son Joseph Guedea; daughter Aracely Aranda, daughter Maria Lampi; daughter Gloria Fernandez; son Jon Guedea; 9 grandchildren; 13 great grandchildren; and one great-great grandchild. She is also survived by her siblings Leonel Longoria, Rodolfo Longoria, Juan Longoria, Adolfo Longoria, and Lupe Santiago.
Funeral services will be held on Friday, July 29, 2022, 10 am at Allen Mortuary with interment to follow at Ceres Memorial Park.